Honest Company Free Trial
Choose a free trial kit of Diapers and Wipes and/or our Essentials. Pay only $5.95 for shipping and handling.
You'll be automatically enrolled in our monthly service* – cancel the service at any time.
Natural & gentle – sustainably harvested pulp, natural odor-inhibitors, and plant-based materials – NO risky fragrances, lotions, or latex
Ultra absorbent – superior performance & moisture retention
Premium fit – cloth-like feel, contour elastics, and stretchy re-fastenable grip tabs
Fashionable designs – choose from a growing selection of stylish patterns for your girl or boy
Natural & organic ingredients gently cleanse, moisturize & nourish your baby & family's entire body from head to toe
Perfectly pH balanced to remove dirt without stripping natural oils & protect tender skin & delicate hair
Tear-Free • Hypoallergenic • Color-Safe • Vegan • Biodegradable • pH Balanced • Naturally Non-Toxic
Save up to 35% with our Essentials Bundle than buying each product separately!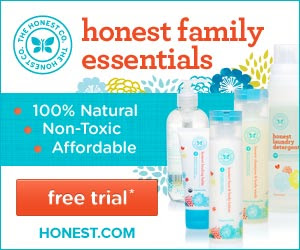 * With your free Trial Kit you will become enrolled as a MEMBER of The Honest Company. You have 7 days following receipt of your Trial Kit to cancel your membership at any time, for any reason. We will remind you about your membership options. If you choose to not cancel your membership, you will be charged $79.95 plus shipping and handling for your monthly supply of Diapers & Wipes, or $35.95 plus shipping and handling for your monthly supply of Essentials.
We guarantee your complete satisfaction!
Need a gift? Check out the Honest Company's Gift Guide