Tammy and Sidney Moorer Bond Hearing
March 17th, 2014
Sidney and Tammy Moorer, the pair charged in the Heather Elvis case, had a court appearance at 2 pm today.
During court no phones were allowed on, bomb sniffing dogs were seen and there was a very noticeable police presence.
During the Bond Hearing the following information was released:
Tammy's attorney says she has a strong faith in the court system and is ready to face the charges and build her case. @MarcLiverman
Tammy Moorer's attorney says she has no prior criminal record, not even a traffic ticket. @MarcLiverman
State says on December 17 after 1 am Sidney Moorer called Heather Elvis. State says they spoke for more than 4 mins. @MarcLiverman
State says Heather Elvis called Sidney two more times from home with no response. State says they finally spoke after 317 am. @MarcLiverman
State says Heather Elvis was home for those calls then left after the 317 am call for the boat landing. @MarcLiverman
State says Tammy Moorer knew about affair Sidney Moorer had with Heather Elvis. @MarcLiverman
Dec 18th large withdrawal of $5000 made by the Moorers per prosecution. @marshall_staton
Ford f150 2013 w/ very specific details (82 in sc) belonging to the moorers spotted on video. All excluded but the Moorers on vid per prosec – @marshall_staton
State says Heather Elvis murder was premeditated and that the Moorers disposed of her body. @MarcLiverman
State says Moorer's compound had many thing related to entire Elvis family like pictures, journal entries. @MarcLiverman 

Prosecution says investigators located $10k in cash in moorers safe. @marshall_staton
Horry co police say they've responded to Moorers' home at least 39 times. @MarcLiverman
Sidney's Attorney mentions Sidney was the one who informed them of the texts made by Tammy to Heather which led to the Indecent Exposure Charges
---
Income Discrepancies possibly explained:
Income reported on loan application
2007 – $45,000
2010 – 120,000
2013 – $48,000
Only filed one income on taxes
2011 – $15,520 listed as waitress/cook
2012 – $15,193 listed as waitress/cook
---
From Sidney's recovered text messages:
1/28/14
Sidney messages Ashley
any suggestions on what I should do with her acting the way she is? I know you are her sister and I f*** her over
Are the kids over there?
Response from Ashley
She needs to get sober
They are fine
Response from Sidney 
Ok good
---
The Solicitor also mentions (in my own opinion) an unusual agreement between Tammy and Sidney – (these details apparently came from Sidney)
Tammy would go to work with Sidney
Tammy has control of all his social media
Tammy had control of his cell phone and had a passcode on the phone so he could could not access it
Sidney was handcuffed (willingly) to the bed at night so he could not leave the house
These images were found on Twitter and provided by @MyHorryNews:
These photos were provided by the @marshall_staton Twitter Account: These images are very hard to read, but if you squint you can make out pretty much all of the wording.
A better image can be found here
The Elvis Family addresses the Judge: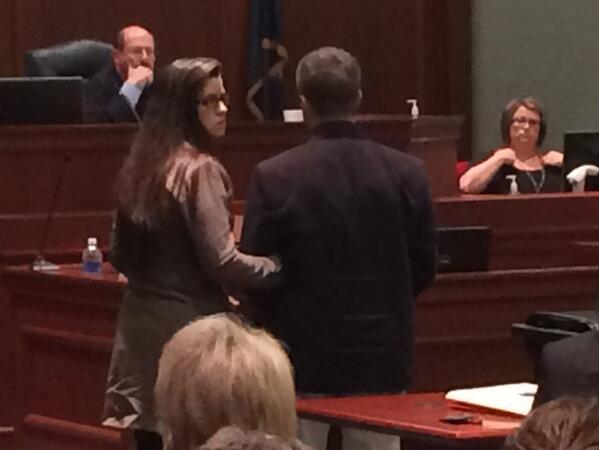 Terry tells judge he worries for his youngest daughter's safety, asks judge not to release Moorers on bond.  @MarcLiverman
Awaiting the decision, but we must first hear from the defense again:
Sidney's attorney talking again, making reference to threats made against Moorer family including children. @marshall_staton
"There is a severe lack of evidence in this case". Sidney's atty @marshall_staton
Moorer attorney says this has snowballed into an "outrageous witch hunt with no real evidence." @MarcLiverman
Defense continuously refers to a bond hearing being used to gauge flight risk and community safety, not trying the case in a bond hearing. @marshall_staton
Greg McCollum defense atty making reference to things that may not be verifiable or factual in social media evidence. @marshall_staton
Tammies attorney brings up chief Rhodes reference to 100s of hours of investigation and he says he'd estimate thousands of hours. @marshall_staton
Tammie's attorney ref guns now and pointing out nothing illegal about people possessing them in sc @marshall_staton
Judge: "I'm extremely concerned about potential of violence" Judge stated "not limited to the Moorers." Bond Denied for both Sidney and Tammy Moorer.
While I could not be in the court room, I was following along with others on Twitter using #HeatherElvis. I did my best to give credit where credit is due. Thank you for understanding.  Thank @marshall_staton for your wonderful coverage.